Secret Garden Kids Yoga is a studio offering consistent weekly sessions focused around KIDS!  Beginning with our Prenatal and Postnatal programs and working through every stage of childhood up to and including the teen years. Each program is designed around age appropriate movement and activities and taught by certified instructors. A typical class for our younger yogis will have them dancing, hopping and storytelling all while practicing traditional yoga to fun music. While in our older groups the activities and music are geared to their age group and interests in a fun and engaging way. By using age appropriate movement and activities kids at each level practice traditional yoga poses, mindfulness and breathing techniques through music, games and stories.
Kristine
I am the owner of Secret garden Kids Yoga Studio. Yoga has been a part of my life for many years. I am a both a student of yoga and a teacher. I hold my CYA-RYT200 as well as my children's yoga teaching certification. In 2018 I had the opportunity to spend the year in Costa Rica with my family and really had a mindset to focus and grow my personal yoga practice into a deeper more integral part of my life. I began to study Yoga as a whole and to practice yoga as more than just the Asanas or physical movements. During this time my children had the opportunity to practice yoga at their school and my youngest became very involved in the practice of yoga as well. With his love of yoga growing and my continued involvement in the growth of my own practice I had an opportunity arise to become trained and certified in Kidding Around Yoga™. I grasped this opportunity in light of my sons love for yoga and the idea to be able to bring this practice home and share with the children back here in our community. I saw a need in our community for a studio that was focused solely on children and family yoga. The style of Yoga I teach offers kids an opportunity to move their bodies in a fun and unique way but to also help calm their minds, and to help them learn to practice mindfulness. I have enjoyed teaching both in studios and schools in Costa Rica and here in our community and look forward to meeting you and your children soon!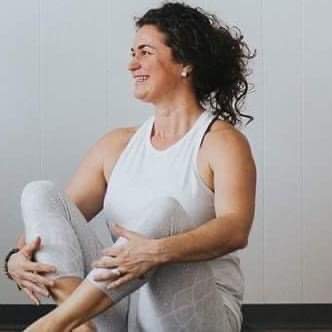 Renee
I Am Renée. I am a yoga guide, boho soul, domestic goddess of 3, entrepreneur and sunshine warrior women. Our family moved to Medicine Hat in 2016 to find a family orientated life with the support of family already settled here. We are local business owners determined to watch our business grow, to become a solid part of the Southern Alberta community & provide for a wonderful Family Life. I am a 200+ Hatha Yoga Teacher. I have 95 additional training hours in Prenatal & Postnatal Yoga. I am currently in pursuit of my 300hr training and I have a few other gems hidden under my mat... I always strive to grow! One of my goals is to build our community via sharing my love of yoga, all while supporting other amazing warrior womyn in their entrepreneurial pursuits. My classes are fun and relaxing yet focus on the alignment of your body to ensure you receive the benefits of your yoga posture in body, mind and soul. I believe in helping one another to rise up and follow our best paths available. You will find an authentic womyn that loves what she does; be it with her family, on the mat, in the home, outside in nature or relaxing with a glass of fun! I hope to offer our yoga community continued support in the prenatal and postnatal form, sharing gentle movement to help prepare the mind & body for delivery, as well as help repair & rekindle the mind & body after our babies are born. Additionally, I hope to be able to offer up a partner prenatal workshop to have an afternoon of fun, movement and sweet togetherness prior to welcoming your newest family addition. Let's grow our yoga community together through connection, movement of body and breath and sharing in our experiences with one another. Can't wait to provide support on and off the mat!